How to organise a big sporting event while fully endorsing environmental, social, and economic sustainability, and integrating it in all its aspects? This and other related subjects such as the evaluation of the impact sport events have on the environment, society and economy were at the core of the study visit to Helsinki. The 5th networking, learning and working visit of the Sport Parks team this year was hosted, and impeccably co-organised, by the Finnish Olympic Committee.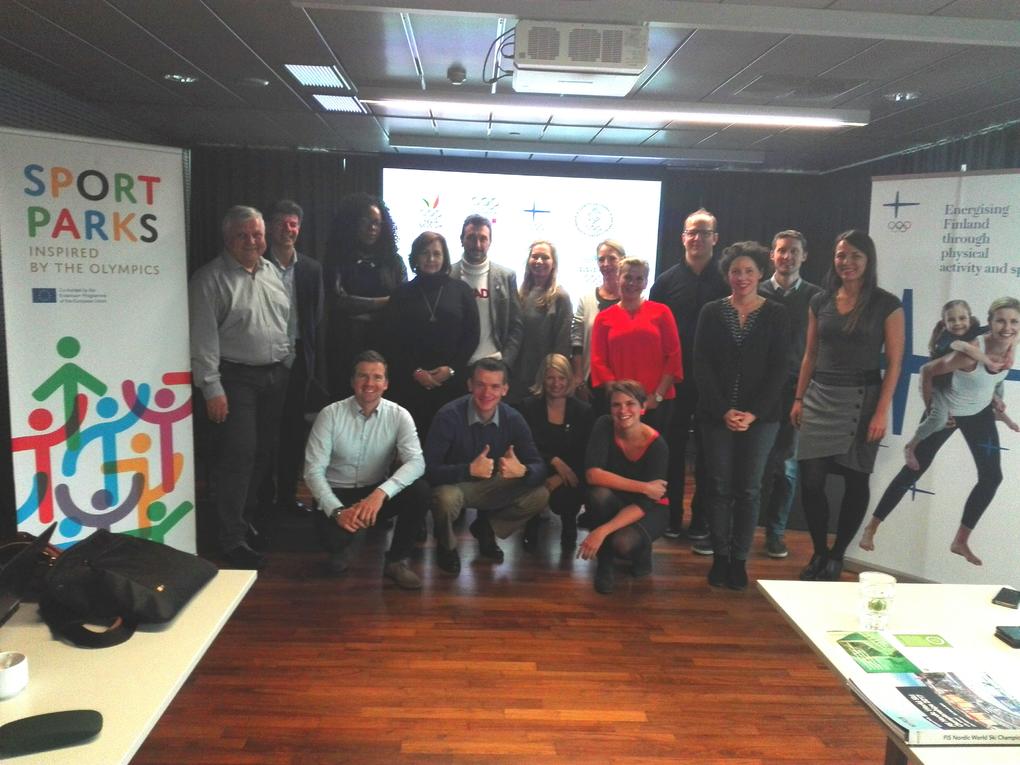 Welcomed by the Vice-President of the Finnish Olympic Committee, Susanna Rahkamo, participants learnt during the first day about the Finland 100 Centenary project, got a glimpse of the Finnish NOC's activties which promote sport and wellbeing by engaging local communities, and were introduced to the Sustainability Compass initiative, the host NOC follows in practically all its activities. Janne Leskinen, Secretary General / CEO of Lahti 2017 FIS Nordic World Ski Championships then had a look at the practical incorporation of environmental sustainability measures in the organisation of major sport events, while underlying that sustainability has to be a core part of the organisation's strategy, and needs to be inscribed in the DNA of the event itself. 
The second day of the Helsinki meeting was dedicated to the development of the last two chapters -Sustainability and Evaluation - of the Handbook for Organisers of Sport Parks. To be able to integrate in the recommendations and guidelines the most recent and well-developed approaches to the two areas, the Sport Parks team was very happy to welcome FI NOC's eco sustainability specialist, Karoliina Ketola, and Mike Laflin, CEO of Sportcal, who shared their invaluable experience with the implementation of environmental sustainability measures (EcoCompass), and with the evaluation of the impact of major sport events (Sportcal GSI Event Studies) respectively.
The Helsinki Study Visit was the last Sport Parks project event of 2017. The project team is already now looking forward to the implementation of next year's activities, in particular to the organisation by the NOCs of the Czech Republic, France, Italy and Slovenia of the Olympic Festivals during the 2018 Pyeongchang Winter Olympics, and to the related observation visits.